History of WOPI-AM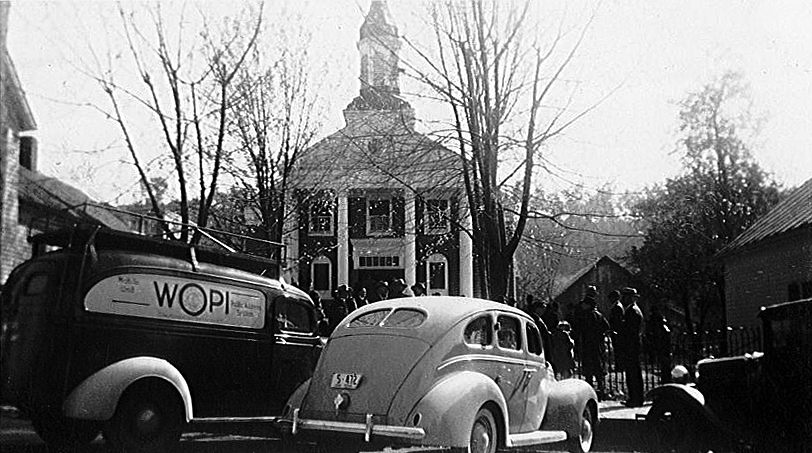 The above rare photograph (circa 1940) recently surfaced. Notice the WOPI Mobile Unit.
The lost tapes of W. A. Wilson.
In 1970, W. A. Wilson (the original owner of WOPI-AM) was interviewed by WOPI radio announcer, Doug Ford. The session was taped and divided into 3 segments to be broadcast on the air. Recently the original reel to reel tape was discovered by Holston Valley Broadcasting President George DeVault and digitized by Charlie Aesque. All 3 segments are below, uncut, and original.

Average time is 8 to 9 minutes apiece. This interview has not been heard by the public since 1970:
W. A. Wilson interview / Part 1: Click HERE (MP3 Download)
W. A. Wilson interview / Part 2: Click HERE (MP3 Download)
W. A. Wilson interview / Part 3: Click HERE (MP3 Download)
Here's a WOPI News Report from the Fall of 1955 featuring broadcaster Harold "Hap" Henley: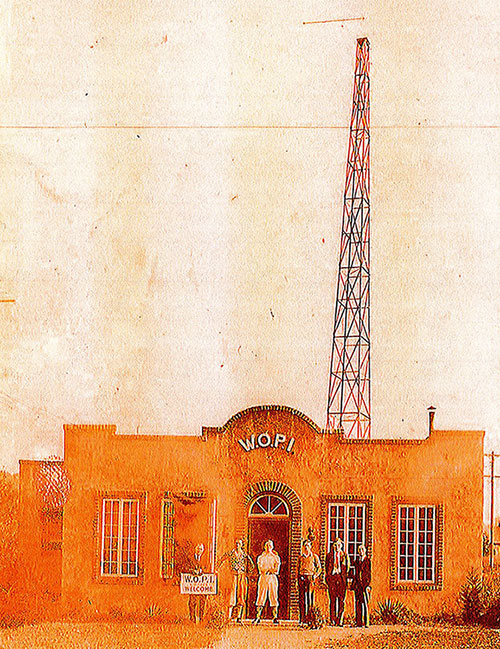 Great entertainers have visited WOPI over the decades: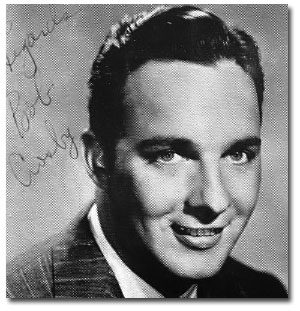 Bob Crosby
1940 radio superstars, Lum & Abner.
WOPI studios in the 1940s.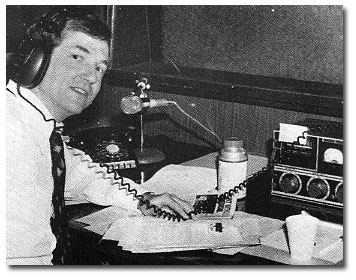 Paul Culp, 1979 owner and part time DJ.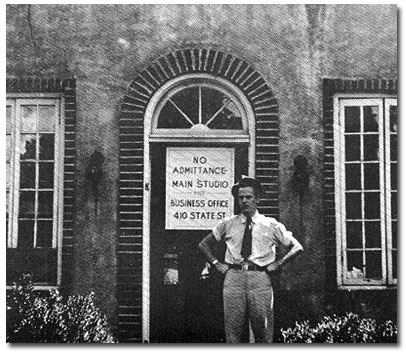 In front of the old WOPI main studio at State & 22nd Street in Bristol.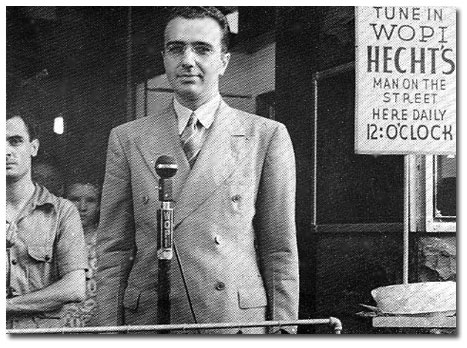 "Man on the Street" photo of radio announcer Fey Rogers, circa late 1930s. Paul Culp, 1979 owner and part time DJ.
.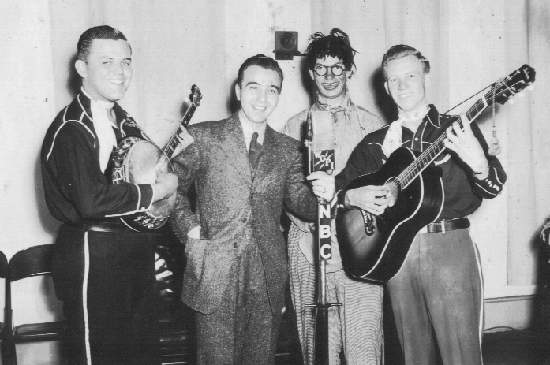 Inside the WOPI studios during the 1940's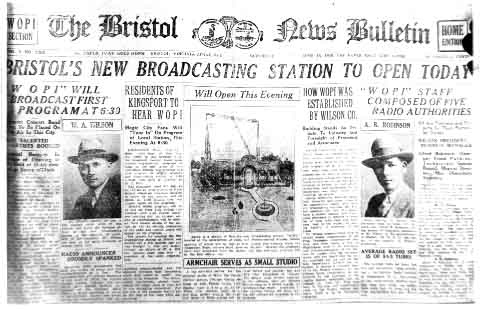 Local Bristol newspaper announcing the "New Broadcasting Station" WOPI in 1929.
WOPI-AM Radio is the Northeast Tennessee / Southwest Virginia area's first broadcast station. Indeed it was the first station between Knoxville and Roanoke. WOPI signed on the air on June 15, 1929, from its original combined studio and transmitter site located at State and 22nd Streets in Bristol, Tennessee. The first broadcast occurred at 6:30 PM and featured the Kingsport Concert Band, and like most broadcasts in those days, it was "live." The station's call letters stood for "Watch Our Popularity Increase," and in almost seventy years, those call letters have never been changed, an unusual circumstance in these days when many radio stations seem to change call letters on a regular basis.
WOPI's founder and original owner was W.A.Wilson, a former chief telegraph operator for Western Union's Bristol office. The idea of constructing a radio station in Bristol was born while Wilson operated Wilson Radiophone Service Company from 1921 to 1928, selling and installing receivers for the new medium. (Mr. Wilson's son, James C. Wilson, worked at the station in his youth and later bought the Tri-Cities second oldest station, WJHL, Johnson City, and renamed it WJCW).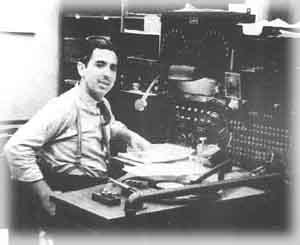 Tennessee Ernie in the early days of WOPI.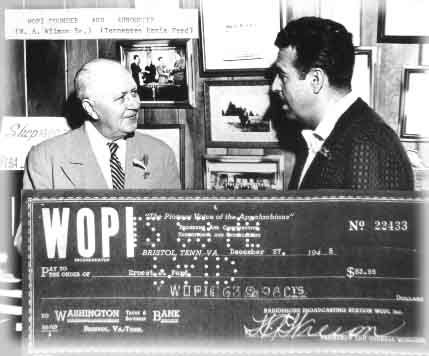 The "Ole' PeaPicker" himself, Ernest J. Ford, who became known as "Tennessee Ernie" and founder W. A. Wilson. WOPI was instrumental in the early career of the late Tennessee Ernie Ford, and this photo shows us Ernie's final WOPI paycheck. They just don't make checks THAT big anymore! Ford left the station in 1945 to become a popular recording star and later hosted his own network television programs.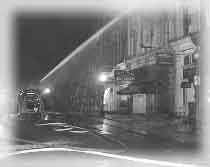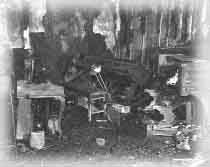 A sad low point in the history of WOPI was the destruction by fire of the studios at 410 State Street.
In those days radio stations were programmed much like most TV stations are today. Instead of having distinct musical formats they carried a broad mixture of different types of programming including drama, variety programs, live local entertainment, and news. A popular live local country music program broadcast on WOPI was the "WOPI Jamboree".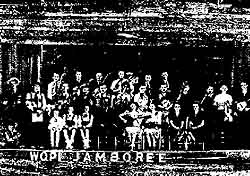 In the 1940's WOPI and WKPT formed their own network for occasional programs of area-wide interest. It was known as "The Sister City Network" linking Bristol, "The Twin-City," and Kingsport, "The Model City." (WKPT, Kingsport, was then known by its copyrighted slogan, "The Nation's Model Station.")
On Christmas day, 1946, WOPI-FM joined WOPI becoming the Tri-City area's first FM station. In the 1960's WOPI-FM was sold to the owner of WKYE and became WKYE-FM. Still later it was sold to the owner of WFHG and became WFHG-FM. The FM station's call letters were later changed to WXBQ-FM, which is today the Tri-City area's number one radio station.
WOPI was originally licensed to the city of Bristol, Tennessee. In 1966, the then-owner of the station, Tri-Cities Broadcasting Company, sought to emphasize the unity of the two twin-cities of Bristol, Tennessee, and Bristol, Virginia, by petitioning the FCC to change WOPI's official community of license to Bristol, Tennessee-Virginia. That official dual city license status was granted by the FCC on April 29, 1966.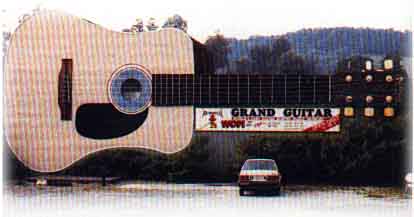 The Grand Guitar Museum
Following a succession of owners, the last of which fell into bankruptcy, WOPI was purchased in 1990 by Joe Morrell, Incorporated, owned by long time local musician and music store owner, the late Joe Morrell. Throughout much of its history WOPI had been programmed much less with country music and more with other musical genres. Morrell's desire was to bring the station back to its bluegrass and old time country roots, and he moved its studios to his guitar-shaped "Grand Guitar" museum building on West State Street to emphasize the point. After a year in a pure old-time country format Morrell decided to again mix the station's format by joining The WKPT Radio Network originating at WKPT, Kingsport. The WKPT Network features nostalgic "rock and roll oldies" music plus a heavy schedule of news --- both from ABC and the local WKPT newsroom -- and local and regional sports.
While some non-WKPT programming occupied every day in the week, on Saturdays and Sundays during daytime hours WOPI continued to find its original roots with several hours of old time country and bluegrass programming each weekend. In May, 1996, WOPI was purchased by The WKPT Radio Network's owner, Holston Valley Broadcasting Corporation. WOPI's affiliation with The WKPT Radio Network continues today. Although the WOPI call letters are included in the official WKPT Radio Network identification at least once every hour, many of WOPI's present listeners often identify the station as "WKPT".
WOPI's own unique identity still shines through every week in local broadcasts of Bristol Tennessee High School Football and Basketball, local Bristol newscasts, a local religious program every weekday, and seventeen hours of old-time country, bluegrass, and gospel programming originating each weekend. This weekend programming originates from WOPI's auxiliary studio at the "Grand Guitar" on West State Street in Bristol, Tennessee, "The Birthplace of Country Music."
WOPI Transmitter Sites:
1929 - State & 22nd Street; Bristol, Tennessee (see photo in 1929 newspaper article on this page.)
1939 - "Northeast of Bristol, VA"
1954 - Near Termination of Barker & Delaney streets, 500 feet East of City Limits of Bristol, VA
Past WOPI Studio Sites:
1929 - State & 22nd Streets; Bristol, TN (see photo in 1929 newspaper article on this page.)
1936 - 410 State Street; Bristol, TN (see photos taken after the tragic fire.)
1946 - Union Trust Building; 310 State Street; Bristol, TN
19?? - Easley-Wright building; State & 4th Streets; Bristol, TN
1966 - 1234 West State Street; Bristol, TN
1978 - Historic Bristol Train Station; State Street; Bristol, VA
198? - 288 Delaney Street; Bristol, TN
1990 - The Grand Guitar; West State Street; Bristol, TN (see photo on this page.)
Ownership History of WOPI:
1929 - Radiophone Broadcasting Station WOPI
1960 - Pioneer Broadcasting Corporation
1965 - Tri-Cities Broadcasting Company
1972 - Thomas Ray Tolar, Sr. (Tolar, Tolar, & Tolar Partnership)
1978 - United Broadcasting Company, Inc.
1990 - Joe Morrell, Inc.
1996 - Holston Valley Broadcasting Corporation
WOPI -AM
The Voice of the Appalachians
Reception Lobby of the studios of WOPI.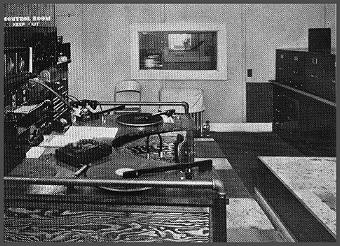 Master Control Room, from which most commercials and transcribed programs emanate. Fey Rogers, musical director and chief announcer, is in charge of the production phase of broadcasting. Note the 'variable speed turntables' and all the 'technical apparatus'.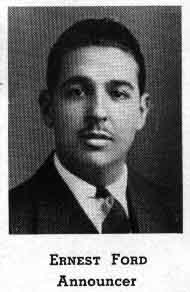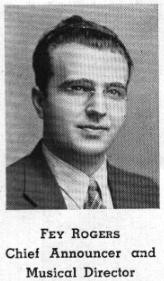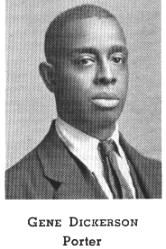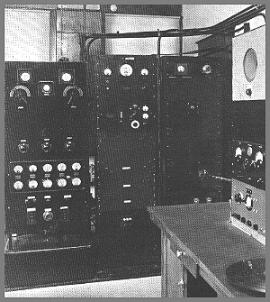 Transmitter - the size of a small elephant.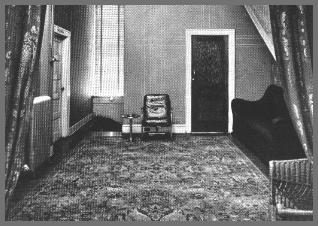 Relax in the Lounge Room
IT'S SHOWTIME!: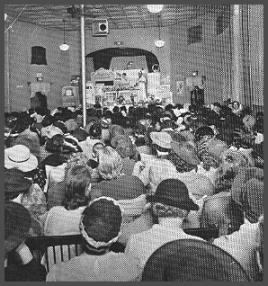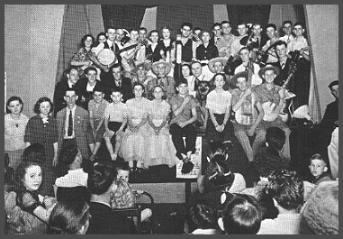 The Annual Radio Cooking School It's the Saturday Night Jamboree Scene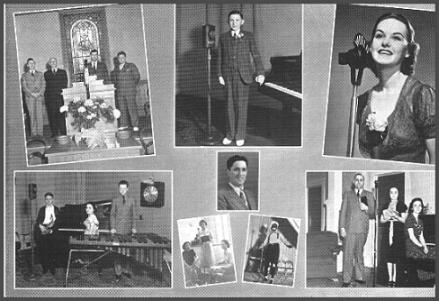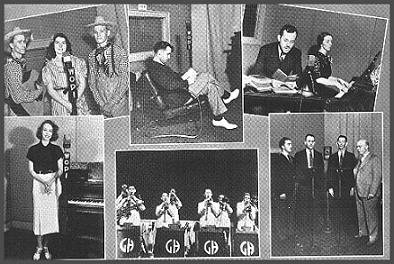 Some of the live talent performers that added to the variety and interest of WOPI's daily program schedule in the late 1930's.
Click HERE to view an article from a late 1940's edition of RCA's BROADCAST NEWS, a then
popular broadcast industry trade magazine. The article details some of the early trials and
tribulations of Tri-Cities first FM station.....WOPI-FM.
A subsequent owner of WOPI sold the FM station to the owner of WKYE(AM) whereupon the FM call sign became WKYE-FM. Upon another sale to Bristol Broadcasting the call became WFHG-FM and finally WXBQ. In recent years WOPI's programming has been back on the FM band at 97.9.