WOPI RADIO
Weekend Schedule of Programming for The Grand Guitar.


SATURDAY:

7 to 9 AM – "Music & Fun Time" - Larry Gorley
9 AM to 1 PM – "Country Music Revival" - Perry Addison

SUNDAY:

8 AM to 11:00 AM – "The Session Two Bluegrass Show" - Linda Wright
11:00 AM to Noon - "The Grass You Love" - Kenneth Berrier
12:00 to 12:30 PM - "The TriCity Real Estate Show" - Hosted by Wes Shields of Keller Williams Realty, and Tuan Nguyen of United Capital Lending.

12:30 to 1:00 PM – Cold Springs Presbyterian Church (1 Week Delayed Broadcast)
Monday-Friday @ 10:00am / Dave Light with "AM Tri-Cities"
Sponsored by Food City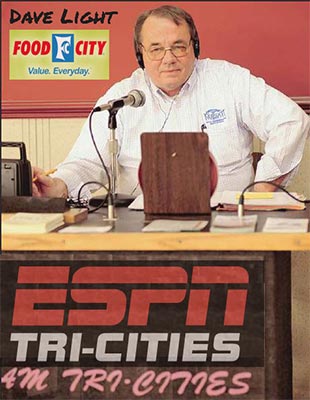 Join Dave Light at Facebook.
All about Dave Light:
Born in Kingsport, Tennessee (Sullivan County)
Graduate of Dobyns-Bennett High School
College educated with majors in math and science
Married since 1970 to Jennifer "Rusty" Davison (retired Kingsport City Schools teacher)
Proud parents of two daughters, Amy & Joanna
Proud grandparents of Charlie Grace Birch and Finley Brianna Poteet
Retired from the City of Kingsport with over 25 years of service
Held highly responsible management positions including the City's first Fleet Manager, interim Water/Wastewater System Manager, Community Relations Director, and Assistant to the City Manager
Full community involvement including Leadership Kingsport Graduate, FunFest Executive Committee, Girls Inc. Board of Directors, South Central Community Development group, Kingsport Tomorrow, DKA, Chamber of Commerce, Students in Government, Boy Scout Troop Committee Member, School Safety Committee.
Member and Elder in the Presbyterian Church (PCUSA) and served as a commissioned Lay Pastor
Eagle Scout
United States Army Veteran




MORNING DEVOTIONS
with
Reverend John Thrasher
WEEKDAYS AT 5:30AM
Special message from John Thrasher to his many listeners:
My wife, Louise, and I came to Bristol, TN with our two young daughters, Susan & Cindy, 45 years ago to pastor Glad Tidings Assembly of God. Louise is originally from Mobile, Alabama, and I am from Texas. We came from Memphis to here. After serving as pastor at Glad Tidings for nearly 7 years I resigned in order to start the Greater Bristol Senior Citizens Center that Louise & I served for 5 years. Afterwards, I was pastor of First Christian Church in Bristol, VA for 25 years. After retiring, I was asked to be interim pastor of Providence Community Church, a new congregation in Abingdon, VA, where I have been now for 7 years.

Our home phone number is 276-466-2406, and our mailing address is:
P.O. Box 552, Bristol, TN 37621.

I began this devotional radio broadcast nearly 40 years ago.

Also, Louise & I hosted group tours all over the world for about 40 years, leaving out of Bristol. Our travels took us into China, Australia, New Zealand, Japan, Malasia, North Africa, Egypt, Israel, Lebanon, Scandanavia, the British Isles, Italy, France, Greece, Spain, Poland, Austria, Hungary, the Chech Republic, Holland, Switzerland, Germany, Russia, the Panama Canal, Bermuda, the Bahamas, Mexico, the Caribbean, all the provinces of Canada and every state in the USA including Alaska and Hawaii. It has been a great adventure, and we have met many wonderful people, but we hosted our final group tour in June of 2010.
Thank you for listening to Morning Devotions.


Warning
: include(weather/weather.class.php) [
function.include
]: failed to open stream: No such file or directory in
/home/content/20/7674820/html/wopi/oldsite/shows.php
on line
170
Warning
: include() [
function.include
]: Failed opening 'weather/weather.class.php' for inclusion (include_path='.:/usr/local/php5/lib/php') in
/home/content/20/7674820/html/wopi/oldsite/shows.php
on line
170
Fatal error
: Class 'Weather' not found in
/home/content/20/7674820/html/wopi/oldsite/shows.php
on line
188